The Ultimate List of 15 Best Photoshop AI-Powered Plugins - 2023 (Half are Free)
Enhance your editing workflow with the new AI-powered plugins. Discover our list of best Photoshop AI plugins for photographers and photo editors.
We already know that AI has done a lot to help people to make their work easy and helpful, No matter what purpose and in which context you're seeking help whether it's for content writing, Image generation, design, coding, or productivity AI is everywhere to help you.
Existing photo editing tools can and are using AI in several ways, AI image generator is one of them. If you're a big fan of AI tools like me and in search of making your work more easy through AI while keeping in touch with your preferred editing tool then I'd say adding Plugins to your application is the best solution. Today, I want to share with you some of the best Photoshop AI plugins that can help you edit your photos more easily or add additional features to your editing software. There are many other professional Plugins for Photoshop but in this post, we're focused on the AI Plugins that can be integrated with Photoshop.
Okay so, being a photo editor you'll probably be familiar with the best photo editing tools out there. According to many sources most people love to edit photos with Photoshop and Lightroom, right? Actually, I'm also a big fan of Adobe's photo editing products. If someone asks me why I always use Adobe software, then I'll answer that the main reason for using this software is because of the consistent updates and trending features.
I once heard this interesting saying, " It's better to be first in the market than the best"
If we look at Adobe in the context of Artificial Intelligence, You may be familiar with the Adobe Stunning product which is Photoshop Beta, Its excellent Generative AI is the best feature for generating AI images. According to many editors, it's the best of all AI photo editing tools so far.
Contents
What is a Photoshop AI Plugin?
While editing your images AI can automate many tasks that are involved in the process, It uses artificial intelligence techniques to analyze the photos and make decisions to enhance or modify them.
AI-powered editing tools are like magical assistants for your image editing tasks. They have this incredible power of artificial intelligence that brings automation and braininess to the whole process. Okay, let me give you an example, Imagine having a little AI buddy sitting right there in Photoshop, ready to analyze your images and say, "Hey, I got this. Let me recognize those patterns and make those pictures pop."
It's like having a friend who can transform your average snapshots into jaw-dropping masterpieces in a snap. The best part? They are super easy to install and use, so even if you're not a tech guru, you'll be conjuring up awesome edits like a pro in no time. Trust me, once you try one of these AI Plugins, you'll wonder how you ever lived without them. Go ahead, let the photo magic begin. 😄
In previous times, photo editing has been a time-consuming process as it involved many things such as color-grading, Skin retouching, Applying filters, Adding text, and many others but thanks to AI which has made photo editing very easy, With just a few commands and clicks your professional photo editing is completed.
Before jumping to the Top AI Photoshop plugins list there's one thing to keep in mind, if you believe AI can handle your entire workload with 100% accuracy, I must emphasize that it is not feasible, there are chances that AI can produce inaccurate information about many things.
15 Best Photoshop AI Plugins to Try in 2023
This list of AI Photoshop plugins will help you with a variety of needs, including retouching, blending, composition, color correction, texturing, 3D, and more. Photoshop is a versatile tool that can be used for several productivity tasks Whether it's about the image, web, graphic, or UI/UX designs, you can use these AI add-ons to structure your content and enhance your editing workflow. Now, let's dive into the list to get started working with the new AI technology and learn more about the best Photoshop AI plugins.
1. Generative Fill
On the top introduce you to the best of all Photoshop AI Generative Fill, According to many sources, it's one of the best AI plugins available so far, It's like an assistant in Photoshop that will do anything you ask in just one click on your command. It's Adobe's new AI tool that's changing Photoshop editing overall environment, It gives you the capability to do all types of editing whether it's color grading, lighting, blending, changing sky, changing objects, adding new objects, and whatever you want, the beast AI Generative Fill will do for you. This awesome tool harnesses the power of artificial intelligence to whip up realistic content like backgrounds, objects, and even people! And the best part is, it smoothly blends them right into your existing photos. It's like having a creative genius right there in your editing software, working magic to make your pictures pop! No more searching for the perfect background or object; this AI-powered feature has got your back.
Okay let me tell you the best part, It's super easy to use, especially if you're a beginner Mastering Photoshop is not a big deal thanks to Generative AI. Just select the area you want to fill, and then enter a simple text prompt. For example, if you want to add a beach to your photo, you could enter the prompt "tropical beach." Photoshop AI Generative Fill will then generate a variety of different beach scenes, and you can choose the one that you like best, That's all, you've your final image.
How to download and use Photoshop AI Generative Fill?
This is a new feature that comes in a separate app which is the Photoshop beta, The Beta version is not the official version which means it's for testing and collecting feedback purposes before releasing it in the official Photoshop application. You can use the generative fill AI feature in the Photoshop beta, Download the latest version of Photoshop Beta 24.7 for 100% free.
You can learn to use the AI Generative Fill professionally by following this step-by-step, easy video guide to start creating stunning content. I personally started with this video tutorial to learn this tool and mastered it after playing with it for hours. 😎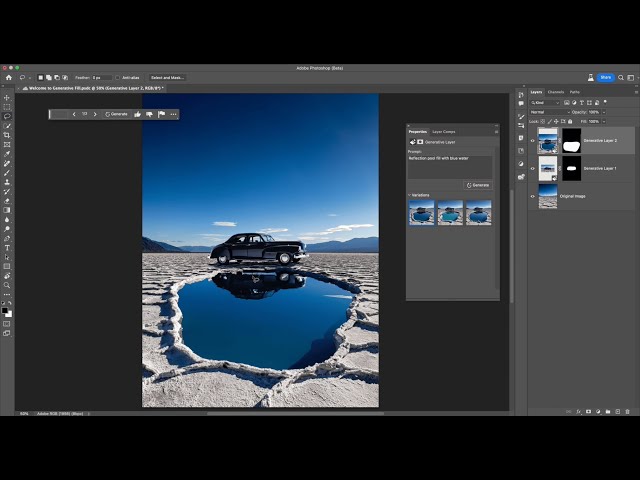 So if you're looking for a way to add some extra creativity to your photos, Photoshop AI Generative Fill is definitely worth checking out. Just be careful, though. You might get so caught up in playing with it that you forget to actually finish editing your photos.
— Specifications
Publisher: Adobe
Price: Free
Best for: Creativity
2. Topaz Labs AI Suite
Topaz Labs is a full-scale editing studio with multiple AI-powered plugins for different photo editing needs. As it's a suite it comes with several AI tools for performing different tasks as per your needs, such as noise reduction, sharpening, portrait retouching, and more using artificial intelligence capabilities to enhance your photos. Following are some of the best Topaz Labs AI tools for Photoshop.
Topaz Photo AI
While editing our images we often come across many problems one of them is image quality, If you're struggling with image quality then look no further than the cleanest raw processing Topaz Photo AI. It is the ultimate solution for maximizing your image quality. It comes with additional image tools for recovering faces, enhancing detail while maintaining quality, eliminating noise and keeping details, and sharpening images for producing natural results.
— Specifications
Publisher: Topaz Labs
Price: $199
Best for: Image Quality
Topaz Gigapixel AI
We have seen the times when we have got a perfect shot to showcase our photography skills but it's just too small for your liking? Well, worry no more. Gigapixel AI can turn that tiny masterpiece into a grand masterpiece, making it suitable for all your printing and framing desires. With Topaz Gigapixel AI, you can magically enhance the resolution of your pictures without losing any precious detail.
— Specifications
Publisher: Topaz Labs
Price: $99.99
Best for: Image Upscaling
Topaz Sharpen AI
Explore the Topaz Sharpen AI the photo editing wizard that will turn your blurry pictures into crystal-clear masterpieces and the first shake reduction app. Say goodbye to those "Where's Waldo" moments in your photos, because with Sharpen AI, even the tiniest details come to life.
— Specifications
Publisher: Topaz Labs
Price: $79.99
Best for: Image Sharpening
Topaz DeNoise AI
Sometimes we take photos in low light and that results in producing some grain, and it ends up looking like it was captured in a disco ball factory? Well, fear no more, because DeNoise AI is the ultimate noise terminator. It zaps away that pesky grain and leaves your photos looking sleek, smooth, and ready for their red carpet debut.
— Specifications
Publisher: Topaz Labs
Price: $79.99
Best for: Image Details
3. Luminar AI
Luminar Neo AI can do it all when it comes to photo editing with AI, It comes with a variety of amazing features to help you create and customize stunning images.
Color grading has always been a crucial and difficult task for editors Because different views need different coloring, With Accent AI you can adjust these all settings in one place with just a single slider for all. With its advanced AI capabilities, it first analyzes the type of image and then adjusts accordingly.
I'm always confused about the lighting settings for my image, such as brightness, contrast, shadows, and highlights. But thanks to Relight AI, I can now do it with a single slider. Accent AI automatically adjusts all of these settings in one place, making my work much easier and faster.
Now, I don't need to watch tutorials about face retouching in Photoshop. With Face AI from Topaz Labs, you can automatically adjust facial features such as eyes, mouth, and lips using its advanced facial recognition technology.
We often encounter situations where the sky in a photo is not suitable. In the past, we would have to spend a lot of time editing the sky to make it look right. However, with Topaz Labs Sky AI, we can now replace the sky in a photo with just one click. Sky AI has an extensive collection of high-quality skies, and it can even take into account water reflections when making the replacement.
— Specifications
Publisher: Skylum
Price: Lifetime with Extensions - $349
Lifetime - $149
Best for: Color grading, Lighting, Face retouching, Sky replacement
4. Stable Diffusion (Stability AI)
After Generative Fill, Stable Diffusion is another image generation plugin from Stability AI. From a general point of view, good plugins don't disturb you and keep you on the main Photoshop screen. This is yet another top photo editing tool that allows you to stick with your mastered software. The stable diffusion(stable.art, concept.art) plugin is also one of the best add-ons that allow you to generate and customize images effortlessly. It uses the AI capabilities of two advanced image-generation tools which are DALL·E 2 and Stable Diffusion. Another great thing is the law of simplicity allowing you to generate and edit images in the most easy way possible.
Being a convenient plugin it consists of several AI models and modes such as text2image, image2image, and inpaint to generate unique content. It also allows you the complete capability of customizing the image after generation. For example, If you want to change the eye color of the generated Queen then the only thing you've to do is to select the eyes part and give the prompt to change the eye color to blue, and Boom! You now have your Queen with blue eyes.
How to download and install the Stable Diffusion plugin for free?
To obtain the latest version (0.9.0) of the Stable Diffusion Photoshop Plugin, there are two straightforward methods available:
1. Install it from Adobe Exchange: You can easily find Concept.art and install the plugin directly from the Adobe Exchange platform. The process is usually user-friendly and involves a few clicks to add the Stable Diffusion plugin to your Photoshop software.
2. Download the CCX file directly from here: Alternatively, you can download the CCX file for the Stable Diffusion plugin directly. After downloading the file, you can install the plugin but now we've to install it manually into your Photoshop application.
— Specifications
Publisher: AbdullahAlfaraj
Price: Free
Best for: AI Image generation, AI Image Editing
5. ON1 Professional Plugins
ON1 is a great software company that's continuously working for years to develop award-winning software for photographers. After using ON1 Effects and ON1 Portrait AI for once, I'm addicted to them because they're stunning when dealing with portraits and adding prebuilt effects that naturally adjust with images and they've saved me from watching tons of boring tutorials and then applying on my images.
Adopting the present AI technology, the ON1 suite offers a set of amazing AI-powered editing tools that lets you effortlessly remove noise, enhance portraits, craft stunning HDR images, and so much more.
Below are some of the great ON1 AI Plugins to get started with:
ON1 NoNoise AI
The DNG raw files play a vital role in preserving the quality and tone of our images, especially when we use them to get rid of noise during editing. But sometimes DNG raw files are somewhat affected and we end up with a bad color range. However, there have been instances where DNG raw files were affected, resulting in a compromised color range. Fortunately, the solution has arrived with ON1 NoNoise AI. This incredible tool, equipped with advanced intelligent technology, not only eliminates noise but also preserves the genuine tonal and color range of your images, ensuring top-notch results.
— Specifications
Publisher: ON1
Price: $49.99 + Free Trial
Best for: Enhancement
ON1 Portrait AI
We know there are many retouching tools available, But what about complete control? Portrait AI automatically detects and fixes your face skin issues while giving you complete control to adjust the smoothness, content-aware crop, detail, shine, texture, and many others.
— Specifications
Publisher: ON1
Price: $49.99 + Free Trial
Best for: Retouching
ON1 Effects
Adding pre-built effects to the images is now an old thing because it doesn't adjust accordingly but thanks to ON1 Effects AI, it first analyzes the images and then gives a collection of filters.
As I told you earlier that I've been using the ON1 effect since it was released and now it has got a lot of improvements such as Adaptive Presets, and Super Select AI.
— Specifications
Publisher: ON1
Price: $49.99 + Free Trial
Best for: Effects, Filters
ON1 Resize AI
There's always a chance of some noise or artifacts when enlarging your photos right? But now this problem is also solved thanks to ON1 Resize AI, with its AI-Based Noise Demosaicing feel free to enlarge your images.
— Specifications
Publisher: ON1
Price: $69.99 + Free Trial
Best for: Enlargements
ON1 Sky Swap AI
Even with many sky replacement tools sometimes we need to make a good selection to change the sky that looks real, Making a good selection is just not a saying sometimes it's a very difficult task especially when you're dealing with professional projects. Sky Swap is an intelligent plugin that automatically detects and selects the sky in your photo, and then provides a collection of different skies to choose from.
— Specifications
Publisher: ON1
Price: $29.99 + Free Trial
Best for: Composition
ON1 HDR
Prathamesh Jaju captured the clearest picture of the moon by combining different parts of the moon, ON1 HDR works the same by combining the picture lighting such as shadow and highlights to create natural-looking HDR images. With its Color Fringe Reduction, it also removes the color fringe, or chromatic aberrations automatically.
— Specifications
Publisher: ON1
Price: $49.99 + Free Trial
Best for: HDR Photos
6. Radiant Photo (Perfectly clear)
The Perfectly Clear Photoshop plugin has been discontinued and replaced by Radiant Photo. Radiant Photo uses the same Perfectly Clear Engine, which is the best and smartest tool for image correction. Using its smart scene recognition it scans the image pixel by pixel with smart presets and identifies the issues such as landscape. Radiant Photo then changes the preset filter and makes adjustments using AI. However, you still have complete control to select and change the presets according to your preferences.
Image credit: Radiant Photo
With its deep learning system, Radiant Photo is also perfect for skin tones making it proficient in accurately representing colors for every individual, Automatic tint correction, Color Grading for Creative Style, and much more.
— Specifications
Publisher: Radiant Imaging Labs
Price: $129.00 + Free Trial
Best for: Image Correction
7. Portraiture 4
Meet Portraiture, the fantastic skin-retouching plugin brought to you by Imagenomic. Using its precise masking tool you can make your skin heal, and smooth. Portraiture is equipped with a brand-new uniformity algorithm that excels at eliminating blemishes and imperfections. Another great thing about Portraiture is with the host support for Adobe Photoshop and Lightroom it also supports Windows and Mac.
— Specifications
Publisher: Imagenomic
Price: $99.95
Best for: Skin Retouching
8. ImageCreator
ImageCreator by AlkaidiVision is yet another completely free image generator copilot for PS. It functions similarly to Stable diffusion in the list, allowing users to create artwork with a variety of features. With its versatile AI capabilities, you can create amazing images and artworks, from transforming text into images (TXT2IMG) to refining existing images (IMG2IMG), and even filling in the gaps with artistic flair (FILL), the possibilities are boundless. No longer confined to conventional approaches, this artistic journey knows no limits.
Simply input your positive and negative desired prompts, and ImageCreator swiftly generates your image within a matter of minutes giving you multiple effective functions and controls.
— Specifications
Publisher: AlkaidiVision
Price: Free, Download now
Best for: Image generation, and artwork
9. Attention Insight
Video credit: Attentioninsight
Considering you're working on a large serious project and want to analyze and test for the most important parts of the image for top-notch design performance then in this scenario, Attention Insight is your reliable ally. It intelligently analyzes your images and generates attention heatmaps that require more importance directly in Photoshop to see the most noticeable parts of your design.
— Specifications
Publisher: Attention Insight
Price: Free
Best for: Optimization
10. Retouch4me
In this present time, The way of retouching prospects has undergone a tremendous transformation which is due to remarkable advancements in AI neural networks. There are already many retouching tools available in the market but they make and apply too many filters and color-grading to your photos resulting in an unnatural appearance. But Retouch4me works on a balanced approach while making sure that your images look real and natural. For Skin retouching, I'd say this is the best AI Photoshop plugin allowing you to fix all skin-related issues. Retouch4me is an awesome company making software, especially for skin retouching, It's totally focused on skin tones. Some of the popular AI plugins/features for skin retouching are Dodge&Burn, Portrait Volumes, Eye Vessels, Eye Brilliance, Heal, White Teeth, Skin Tone, and many more.
Image credit: Retouch4.me
Its amazing automatic batch processing and face-detection technologies automatically detect facial features and apply retouching while knowing the different types of skin tones. Additionally, it includes RAW processing capabilities, enabling it to read DNG and camera raw files resulting best tool to handle images with high quality.
How to download and use Retouch4me
You can utilize Retouch4me with the Photoshop Retouching Panel for free inside Photoshop. It's so simple to use this tool, you just have to select the features you want and then click run, Photoshop will automatically create layers allowing you to adjust opacity, fill, and blending modes but if you prefer video tutorials, then here's a quick video guide to use the Retouch4me Photoshop Retouching Panel.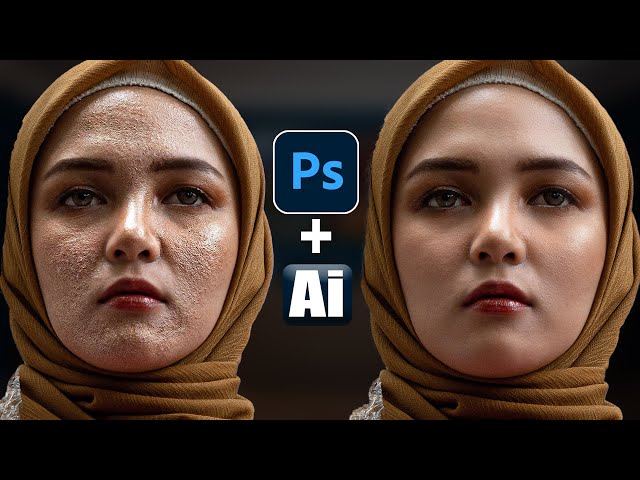 Download
The great thing about this add-on is that it applies effects like correcting skin-related issues, applying filters, and changing color but also takes care of the natural or the overall appearance of the skin tone, Now that's a great thing when you're dealing with filmic projects.
— Specifications
Publisher: Retouch4me
Price: Free
Best for: Skin Tone Retouching
11. Filter Forge
Image credit: Filter forge
Moving onwards to the list, let me introduce you to the Filter Forge, which can be installed as a plugin in Photoshop. It provides an amazing collection of library filters and textures that can be applied to your images. Basically, it's an editor that allows you to create your own filters and textures and then apply them to your images. So if you love to create your own filters, and textures then utilizing Filter Forge will be a good solution. The latest or I'd say the successor of Filter Forge is Ultraforge. They've developed this new version after the continuous hard work of 8 years. It's a powerful node-based environment to generate and process images using Artificial Intelligence technology.
Ultraforge uses Stable Duffusion to generate images just like the same environment i.e. prompt, and adjustment controls. Ultraforge works on nodes that use the AI technology of the Stable Diffusion algorithm. These nodes work a Random forest algorithm based on an ensemble learning technique and in this technique, the final model's performance is enhanced by the combination of various nodes. The nodes in it have the stunning ability to generate images through AI technology. Whether you're using the Text-to-Image or Image-to-Image prompt, the results are nothing short of extraordinary.
— Specifications
Publisher: Filter Forge, Inc
Price: Basic Edition starts at $23 + Free Trail
Best for: Applying filters, and textures
12. Infinite Color Panel
Sometimes I used to spend hours trying to perfect the colors in my photo designs during the editing process, but then I found Infinite Color Panel. If you're also tired of spending so much time twisting colors in your photos, say hello to this amazing Photoshop tool. Trust me, it's so easy to use that even your pet hamster could become a photo-editing pro. Let me share my story, Adjusting the colors of my images after working on the lighting was always a daunting task for me. However, ever since I discovered the Infinite Color Panel, that's become a breeze now I can add a nice and customizable color grade with just a few easy steps using this Photoshop ingredient. Just like Retouch4me it also creates separate layers with which you can easily adjust the opacity and blending mode.
Image credit: Infinite Color Panel
It comes in separate versions such as Infinite Black and White, and Infinite Harmony but being friendly, I'd suggest you buy the Color Panel Suite which includes all the versions in one place, and it's also affordable when compared to other versions.
— Specifications
Publisher: Infinite Tools
Price: $99.00
Best for: Tweaking Colors, Color Grading
13. Neural Filters
Neural Filter is an AI-based plugin powered by Adobe Sensei which is a suite of machine learning and artificial intelligence. The great Beta Generative Fill is also created using Sensei machine learning and artificial intelligence capabilities.
Image credit: Adobe
Imagine having a whole library of filters at your disposal, waiting to turn those complex workflows into a breeze with just a few simple clicks. Yes, it's the Neural Filters that can do it all.
But that's not all, Neural Filters also possess the remarkable ability to elevate your images to new heights. With a touch of digital sorcery, they generate new contextual pixels, filling in the gaps that were missing in your original picture.
Download Free: Neural Filter download link
— Specifications
Publisher: Adobe
Price: Free
Best for: Filters
14. Defuser
Image credit: International
Image manipulation is an important factor in the field of editing, and it's also not so easy to professionally manipulate your images but now AI is everywhere to help you. Introducing Defuser, which is another Stable Diffusion variant allowing you to generate and manipulate photos easily and effortlessly. It is an image generation plugin for Photoshop and can also be interfaced with AUTOMATIC1111s Stable Diffusion Web UI, which is basically an interface for stable diffusion. Just like the previous image generation tools, it also gives multiple capabilities like text-to-image, image-to-image, outpainting, and inpainting.
— Specifications
Publisher: InternationalTD
Price: Free
Best for: Image manipulation, Image Generation
15. Aurora HDR (Merge tool)
Taking landscape photos is another great photography skill and interest, Yes it's about interests where some love to take portraits, and some love to take landscape photos. Sometimes we get some unique and astonishing viewpoints to capture photos with much excitement but unfortunately, the images may lack the magic we expected. But don't worry Aurora HDR has got you, it has amazing features to reveal the hidden beauty of your dull photos. Its amazing features like tone mapping and HDR Denoise can effectively balance the highlights, and shadows, and fix those pesky artifacts, making your photo crystal clear.
If you're still not happy with the lighting fixes, then there's something more to apply, Aurora HDR also includes a library of stunning landscape filters and presets.
How to install the Aurora HDR plugin in Photoshop?
Before you can use Aurora HDR as a plug-in, you'll need to install it first as a separate application.
1) Once Aurora HDR is launched, ensure you have a project file open, you can either open a single image or use a recent project file you were working with.
2) From the Aurora HDR menu or the File menu, simply choose "Install Plug-ins" and It will scan your system to see what's already installed.
3) Now you have the list of software that it supports in your system, select the software for which you're going to install the Aurora HDR as a plug-in.
4) After that, click the "Install" button and enter your system administrator password if prompted (applicable for Mac users).
5) For Mac users, you can install it into Photoshop, Lightroom Classic, Photoshop Elements, and Aperture. If you're a Windows user, you can install it into Photoshop and Lightroom Classic.
6) Once you're done, click the "Done" button and the plugins will be activated. Now that we've got the plugins activated, you're ready to explore the magic of Aurora HDR.
— Specifications
Publisher: Skylum
Price: $99.00
Best for: High Dynamic Range Editing
Frequently Asked Questions (FAQs)
What is the best AI Photoshop plugin?

Generative Fill stands out as the best AI plugin for Photoshop so far. The main reason is it can do it all, whether you want to retouch skin, generate images, remove noise, or do any other editing on your photos. One of its greatest strengths is its ease of use. It comes with a highly user-friendly interface and intuitive controls.
What is the best free AI plugin for Photoshop?

We come with various free Photoshop AI plugins in the list. Following are some of the best and most free AI-powered plugins you can download now (100% free).

Generative Fill
ImageCreator
Stable Diffusion (Stability AI)
Attention Insight
Retouch4me
Neural Filters
Defuser
What is the best Retouching AI plugin for Photoshop?

Retouch4me is the clear leader among skin-retouching AI plugins for Photoshop. One of the great features of Retouch4me is the balanced approach, its advanced algorithms make sure that the overall appearance of the images stays intact. Additionally, it also includes raw processing capabilities to handle high-quality images.
What is the best Color-grading AI plugin for Photoshop?

Infinite color panel is one of the top color grading AI plugin to try in Photoshop. It's a user-friendly ai tool that helps you tweaking with the colors and generates professional-quality color grades with just one click. With its efficient AI color grading capabilities Infinite Color Panel lets you find the best direction while color grading. Due to its full potential tools for image color grading, Infinite Color Panel has established itself as one of the top AI color grading apps on the market.
Final Thoughts On Photoshop AI Plugins
Through the artificial intelligence revolution, the way of editing has changed a lot. I remember the days when I used to spend hours making selections blending images and doing other editing stuff. But now with the changing world, the editing experience has also changed, It not only helps you easily edit while saving time but also opens new ways to take your editing flow to the next level. So in Photoshop, we can achieve this by Integrating AI-powered applications that bring a multitude of options to change your editing flow. These tools have intelligent algorithms that first take inputs, analyze the form, process the form, and generate the final outputs.
Budget considerations might not be the primary deciding factor when it comes to AI plugins, as the most powerful ones tend to have similar price points. I've also listed the top free AI plugins for Photoshop under FAQs you can download for free.
In conclusion, installing AI plugins will help you a lot in your editing experience. Once you use AI tools in Photoshop, you won't be able to go back to editing without them they are like an addiction game.
That's it, this is my pick for the top AI best Photoshop plugins to try in 2023. Now it's your turn to tell me which plugin you liked the most and don't forget to try the free plugins provided above.